Testimonials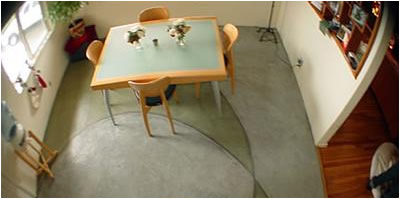 I'm a painting contractor and we were doing a project in the Santa Cruz hills and the floor reminded me of the one Dave did for us. I called him to ask if he did the work. Not realizing that it had been over 10 years since we had seen each other. I was correct about Diamond D Co. doing the floor and Dave told me he had won an award from Bomanite in 2000 for that project

Anyway, we got talking about the Mirco Top floor he did for us in 2001, wow, that long ago already. I still remember how he came into our kitchen and from the design to the finish was very professional. His design is exactly what we had envisioned and here it is 12 years later and the floor still looks like new thanks to his superb craftsmanship.
Erik & Marina Martensen
---

Got back from our trip yesterday and went to see the fireplace. I LOVE it!!!!!! Thanks so much for making the concept a reality! You guys are truly "godlike" and I appreciate all your time and attention to detail in this project.
 
Thanks sooooo much!
Kelly
---
I was asked to be one of the Artisan at the W.O.C. in 2008. One of the other Artisan working on a demo a few booths away came over to see our work. He opened my photo book and the first picture was of a floor we had done 6 years before. He looked up at me and said: You did this...this is the job that inspired me to get into decorative concrete. That's one of the best complements I think I ever received.
Dave Pettigrew
---
Hi Dave, 


Barbara and I want thank you for the excellent work on our steps, walkway, and patio. It's beautiful. We are particularly grateful for your expertise in designing the project. Because of your input and suggestions, the final outcome has exceeded our expectations. Also please extend our gratitude to Tony and all the crew. They are talented, hardworking, and did a great job. Thanks again. 
 
Jay and Barbara Crouch 
Corralitos 
---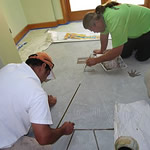 We just finished owner-building our home in Monterey County, CA. We hired Diamond D. Concrete to do both interior and exterior concrete work. From the start, we knew that Dave Pettigrew would give our project his personal attention and would care about the details. (For any of you out there who haven't built a house yet, but are contemplating it well, finding detail oriented sub-contractors just isn't the norm). I knew I wanted a unique entryway, but wasn't sure what we could afford. I talked with a couple of concrete people in the area, and they either tried to discourage me from doing a 'design' or said my budget just wasn't big enough. On the other hand, Dave was excited about my ideas and easy to communicate with.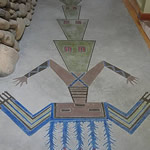 I described my vision of a Navajo sand painting done in concrete and he jumped right on it. We refined the design to work within our space, discussed the colors and wallah a beautiful floor was born. Dave, along with Caesar did a beautiful job. I cannot thank Dave Pettigrew and Diamond D. Concrete enough for allowing my vision to come to fruition in a positive, easy-going, professional manner –
THANK YOU, DAVE!!!!
---
Dave,
As promised, here's my set of nice words ...
Working with Dave and Cesar at Diamond D Concrete has been wonderful. They have been able to turn my vague words into something beautiful, finding just the right mix of color and design to match my expectations. We are thrilled with the results and are sorry we didn't decide to do more concrete floors in the house. I can recommend their work without hesitation. In fact, I referred some friends to Diamond D before they had started work on our project. I had seen some of their work at another friend's house. I was impressed and inspired by the photos Dave showed to me of other projects.
Melinda Rolfe
---
The bathroom is looking great! We are very excited by the colors and design.
me
Quick Links
articles view
testimonials view
links view
awards view
Contact Info
(831) 464-7369 Office
(831) 464-7375 FAX
Quick Form